Com 17 indicações ao Emmy's e a estréia anunciada para o dia 25 de julho, a nova temporada de Mad Men promete seguir a tradição de arrasar não só dramaticamente como estilosamente. Para aquecer nossos corações fashion, a AMC preparou um vídeo com a estilista do show, Janie Bryant, nos levando por uma "viagem" pelo guarda roupa da série e falando sobre as novidades que podemos esperar:
With 17 Emmy nominations and the new episode premiere announced for July 25th, the fourth season of Mad Men carries on the tradition of amusing not only dramatically but elegantly as well. To warm up our fashion hearts, AMC has put up a video with the show's head costume designer, Janie Bryant, who takes us on a journey through the series' wardrobe discussing what news can we expect for the upcoming episodes:
Pra quem não ainda acompanha o seriado - que passa na HBO nos domingos à noite aqui no Brasil - ele gira em torno dos empregados de uma agência de publicidade no início dos anos 60. A ambientação, cenário e claro, figurino, estão entre os mais celebrados da televisão atualmente e ajudaram a catapultar as atrizes Christina Hendricks e January Jones como símbolo de uma vertente sofisticada, comportada e ao mesmo tempo sensual da moda, que há muito tempo andava preterida pelo público feminino.
For those of you still not following the show, the plot revolves around the employees working at an advertising agency in the early 1960's. The sets, designs and costumes are amongst the most celebrated of current television and helped catapult stars Christina Hendricks and January Jones as icons of a sophisticated, classy (but still sexy) fashion slope that had long been overlooked by the female audience of late: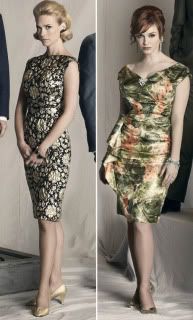 Por enquanto a AMC liberou apenas esta foto de divulgação do elenco, mas nas próximas semanas estará lançando pelo segundo ano consecutivo uma campanha em parceria com a
Banana Republic
para divulgar a nova temporada com vitrines temáticas, guias de estilo e muito mais. Aguardem novidades por aqui em breve!
Enquanto isso, fiquem com um perfil de estilo da lindíssima January Jones para a edição de televisão da
Nylon
do ano passado:
For now, AMC has only released one promotional cast photo, but it should soon be launched their second year partnership with Banana Republic to help promote the show's style with the fashion brand. Stay tuned for more news over the next couple of weeks!